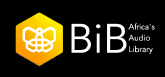 ---
Useful links
BiB on Facebook
Follow BiB on Twitter
Follow BiB on Instagram

Enjoy authentic stories from home-grown artists
BiB is an audio library of African voices telling African stories through a curated collection of audiobooks, theatre and series. Told in 5 different African languages, the library offers material that caters to all age groups which you can enjoy directly from your device.
Keep the whole family intrigued and entertained with BiB audio library :
Subscribe for just R159.99 per month and get up to 4 books
Browse the catalogues to view the books available before purchasing
Listen to your favourite stories offline by downloading and listening to them when you want to
Stories do not expire, and remain in your library
Save your Rands and use your eBucks to pay for additional stories over and above your subscription
Safe and secure
How To Register
If you haven't signed up, follow the steps below.
Log in to the FNB/RMB Private Bank app on your smartphone
Click on the eBucks Rewards tab
Click on Partners
Select BiB
Follow the prompts
You will receive a welcome email from BiB and login details
Follow the prompts and create a profile through the FNB/RMB Private Bank App
Accept terms & conditions and you will be directed to the subscription page
Not enough available credits?
Use your eBucks and/or Rands to pay or part-pay for additional of audiobooks, theatre and series.
Terms of Use
BiB is available to all FNB and RMB Private Bank customers who qualify for eBucks Rewards.
You will receive 4 credits for your subscription every month. A book credit is the currency used on the BiB App to purchase books. Credits allow you to purchase a book in our library. If you want to listen to more books, you can add book credits to your subscription as you go.

Adult/Mature books: 4-12 credits
Children's Books: 1-2 credits
Theatre: 2 credits
Series: 1 credit per episode

A BiB subscription cycle is monthly and will continue until you cancel your subscription on the FNB/ RMB Private Bank App
You can only use FNB and RMB Private Bank cards to make purchases and subscribe.
Only subscribed customers can use available credits to purchase audiobooks, theatre and series.
Terms, Conditions and Earn Rules apply.