Don't miss the hottest daily deals at OneDayOnly.co.za
OneDayOnly.co.za could be your new best friend. They get hold of a product, slash its price and then offer it to you for one day only. You have 24 hours to snatch up the deal before it's gone. OneDayOnly.co.za offers electronics, gadgets, cosmetics, sport and lifestyle items at unbeatable prices, so sign up for the daily newsletter and don't miss out.
Spend eBucks online
when you choose eBucks as the payment method.
Visit the website
Rules to remember
For all purchase queries, please deal with OneDayOnly.co.za directly.
OneDayOnly.co.za refund policies apply. You cannot refund items you've bought with your eBucks for cash.
How to spend your eBucks at our online partners
Spending your eBucks at our online partners is easy.
Step-by-step instructions for spending your eBucks online
Register on the online partner's website

You'll need to be logged into the partner's website before you can order anything.

Add products to your basket or cart and check out

Browse the website and choose products to add to your shopping basket or cart. Next, check out.

Choose eBucks as your payment method

Choose eBucks as your payment method. You will be asked to enter your SA ID number and eBucks PIN. Once you are logged in, you'll be able to see your eBucks account.

Enter your One Time PIN (OTP)

We will send an OTP to your cellphone so that you can confirm your online purchase and complete your order.
Not enough eBucks? Use both your eBucks and your bank account to pay
If you don't have enough eBucks to pay for your purchase in full, you can pay the difference using your FNB or RMB Private Bank account.
Paying with your eBucks online
Look for this button when you order from our online partners.
It's easy. Once you select eBucks as your method of payment, you'll be re-directed to the eBucks website, where you can login and make the payment.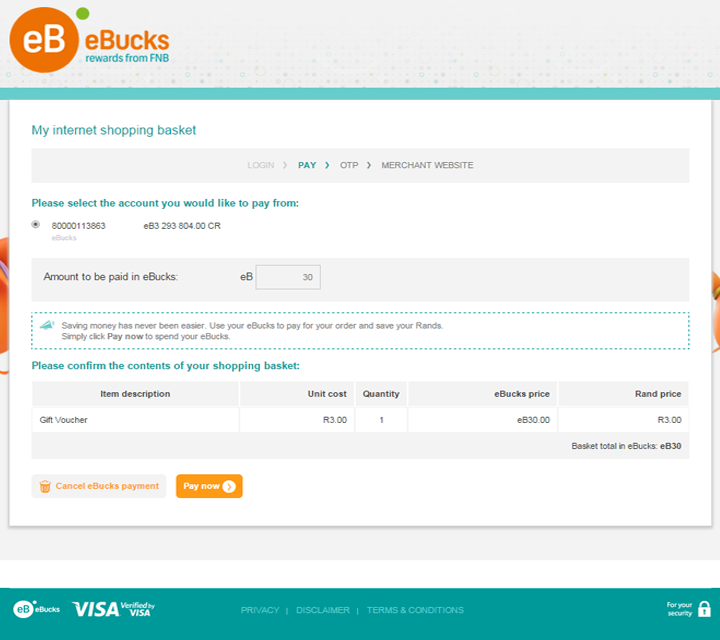 How to check your eBucks balance before spending your eBucks
App: login to our app and click on the eBucks icon on the Home screen
FNB's electronic channels: Register for and log onto Online Banking or FNB Cellphone Banking
Online: login to the eBucks website and go My eBucks.
SMS the word 'balance' and your ID number to 32224. Each SMS costs R1.
Call us on 087 320 3200.
back to top