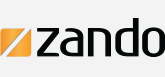 ---
Useful links
Zando's website
Zando on Facebook
Follow them on Twitter

Zando will be upgrading their site (www.zando.co.za ) on 26 December 2019. Due to Zando implementing various technical complexities involved in the site upgrade, eBucks members will not be able to either earn or spend eBucks on www.zando.co.za , from 27 December 2019 until further notice.
The pause in services is temporary and communication will be sent to customers when eBucks functionality has been restored on www.zando.co.za
We apologise to all customers for the inconvenience caused.
Zando is revolutionising online fashion shopping in South Africa
Zando is the newest and biggest online fashion retailer in South Africa offering the most extensive range of fashion and footwear available online. With innovations such as a COD payment option, free delivery and instant returns, Zando is a secure and convenient way to shop that is revolutionising fashion in South Africa.
Earn and spend eBucks at Zando
Earn 2% back
by choosing to earn eBucks and entering your SA ID number when paying for your online purchases.
Spend eBucks online
when you choose eBucks as the payment method.
Rules to remember
For all purchase queries, please deal with Zando directly.
Zando refund policies apply. You cannot refund items you've bought with your eBucks for cash.
How to spend your eBucks at our online partners
Spending your eBucks at our online partners is easy.
Step-by-step instructions for spending your eBucks online
Register on the online partner's website

You'll need to be logged into the partner's website before you can order anything.

Add products to your basket or cart and check out

Browse the website and choose products to add to your shopping basket or cart. Next, check out.

Choose eBucks as your payment method

Choose eBucks as your payment method. You will be asked to enter your SA ID number and eBucks PIN. Once you are logged in, you'll be able to see your eBucks account.

Enter your One Time PIN (OTP)

We will send an OTP to your cellphone so that you can confirm your online purchase and complete your order.
Not enough eBucks? Use both your eBucks and your bank account to pay
If you don't have enough eBucks to pay for your purchase in full, you can pay the difference using your FNB or RMB Private Bank account.
It's easy - you don't even have to leave the Zando.co.za website. Simply login with your eBucks details, specify how you want to pay and follow the simple instructions.
How to check your eBucks balance before spending your eBucks
Online: login to the eBucks website and go to My eBucks.
Call us on 087 320 3200.
SMS the word 'balance' and your ID number to 32224. Each SMS costs R1.
FNB's electronic channels: Register for and log onto FNB Online Banking or FNB Cellphone Banking.
back to top